A Seminar for ASEAN Trademark Examiners held at YUASA and HARA
Program
On February 5, 2016, Yuasa and Hara's attorneys held a seminar for ASEAN trademark examiners with regard to "Applicant Practices in International Trademark Applications under the Madrid Protocol" at our office. The seminar covered some topics of the training program entitled "Practices for Madrid Protocol Trademark Filings for ASEAN Countries: #1", the 22nd JPO/IPR Training for 2015, organized by an incorporated body the Japan Institute for Promoting Invention and Innovation.
The seminar was provided as part of ASEAN Intellectual Property Rights Action Plan 2011-2015 for ASEAN trademark examiners etc., in order that they can have deeper understanding about the actual practices for Madrid Protocol trademark filings. A total of six trademark examiners participated this time, including those from Cambodia and Laos as well as a non-member country of the Protocol, Myanmar.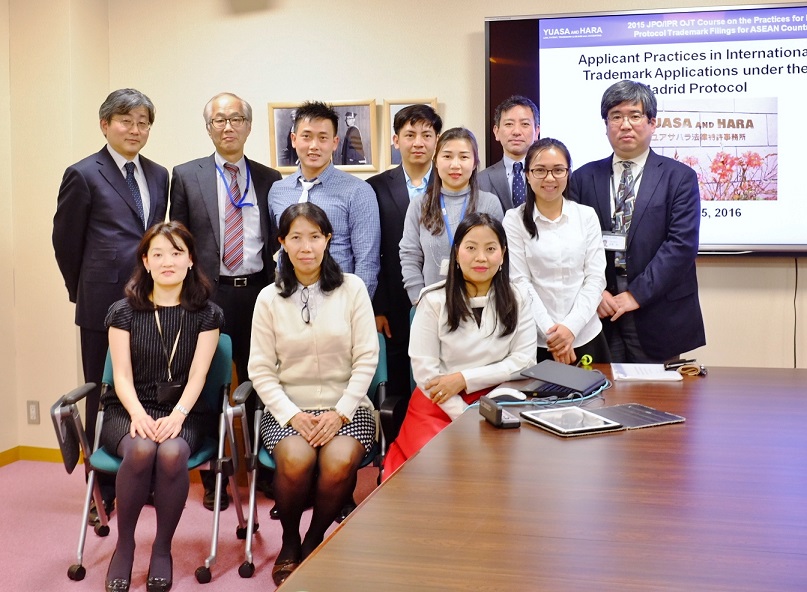 In the seminar, Kazuhiro Nakata, trademark attorney, gave an introductory speech about Yuasa and Hara's general operations, and Chihiro Ohnishi, attorney-at-law, explained about the cooperation between our legal and trademark divisions, and Junichi Matsuo, patent attorney, explained about the links between Yuasa and Hara and the patent offices in Asian countries.
Kazuhiro Nakata and Emi Aoshima, trademark attorney, then gave a 30-minute lecture entitled "The Tips for Responding to a Refusal in Japan as Foreign Applicants: Part 1 and Part 2", and Yuichiro Takata, trademark attorney, also gave a 30-minute lecture regarding "The Tips for Responding to a Refusal in Foreign Countries as Residents in Japan", introducing interesting actual examples for each topic.
Although the seminar was held on Friday in a latter part of the whole schedule of the training course, none of them showed any signs of fatigue and they listened to our lectures with keen interest, asking a lot of questions even through it went far beyond the scheduled time. At the end we showed them around our office and took pictures with each other. For more photographs, please visit:
Other seminars by ONISHI, Chihiro
Other seminars by MATSUO, Junichi
Other seminars by AOSHIMA, Emi (Ms.)
Other seminars on Cross-border Practices、Trademarks
Telephone
+81(3)3270-6641
E-mail for Enquiries