Visit of the winners of "IPIT Court Young Ambassador Award 2015," organized by Central Intellectual Property and International Trade Court (CIPITC) of Thailand
Date

November 12~13, 2015

Speakers

Location

YUASA AND HARA

Practice Areas
Program
We welcomed four students from Faculty of Law, Thammasat University of Thailand, the winners of "IPIT Court Young Ambassador Award 2015," organized by Central Intellectual Property and International Trade Court (CIPITC) of Thailand.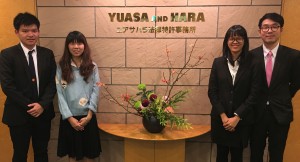 During their stay, lectures on "Enforcement of IP Rights in Japan" by Mr. Osamu Suzuki, "Trade Secret Protection in Japan" by Mr. Yoshihiro Nishikawa were made. In addition, they were taken to Intellectual Property High Court of Japan by Mr. Kodai Kimura to attend the oral proceeding of the suit against the appeal decision by Japan Patent Office. At the start of their stay, the presentation of our firm was made by Mr. Junichi Matsuo, and at the end, free discussion on Japanese judicial system was held.
We hope their stay in our office encourages their understanding on Japanese judicial system.
Other seminars by MATSUO, Junichi
Other seminars on Intellectual Property
Telephone
+81(3)3270-6641
E-mail for Enquiries