MINE, YOURS OR OURS? – Cutting Edge Copyright Issue for Hairdresser & Photographer
Territory:Japan
Practices:Intellectual Property
Category:Cases
Kodai Kimura
Attorney at Law of the Law Division
In Japan, we celebrate a New Year on January 1 rather than the Chinese New Year in February. As always, I visited my parent's house in Tokyo in January with my wife and son. When we were having osechi, which is a traditional Japanese cuisine for the New Year, an interesting legal case came into my mind and so I began explaining it to my father even though he is not a lawyer.
In All Beauty v. Coiffure de Paris Japon, Tokyo District Court, December 9, 2015, Hei 27 (wa) No.14747, the plaintiff All Beauty as copyright owner of their photographs sued for copyright infringement against the defendant Coiffure de Paris Japon arguing that the defendant reproduced and published the plaintiff's photographs without their permission. Both parties are conducting business as publishers in the field of beauty magazines. In response, the defendant asserted that the copyright owner should be the hairdressers.
The Court observed that "a photograph is a way of expression comprising of elements such as selection, combination, and arrangement of subject matters, angle of shots, exposure, timing, a relationship between subject matters and light (direct light, backlight, and rays of light etc.), shade, color composition, emphasis or omission of a part, and background." In this instance, the Court found that each of the plaintiff's photographs displayed creativity in the combination and arrangement of subject matters, angles of shots, light and shade, settings and selection of backgrounds and these were created by photographers who transferred their copyrights to the plaintiff.
Table: Plaintiff's Photographs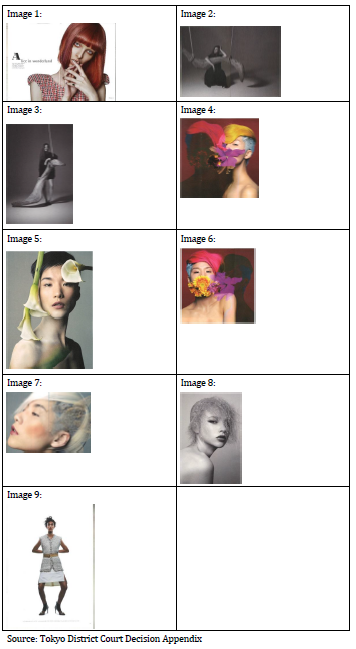 The defendant also pointed out that assuming that the photographers performed creative activities, and hairdressers performed creative activities as well then each of the plaintiff's photographs were "joint works" made by the hairdressers and photographers together. Under Article 117(1) of the Japanese Copyright Law, "Any one co-copyright owner in a joint work may … claim that … co-owner's personal share of compensation for damage due to copyright infringement … without the consent of the other … co-owners of the copyright." Therefore, the plaintiff may claim only their personal share of compensation rather than the whole amount of damages if the photographs were found to be joint works.
However, the Court disagreed with the defendant's argument reasoning that the "originalities of the plaintiff's photographs exist in a combination and arrangement of subject matters, angles of shots, light and shade, and backgrounds etc. so the Court cannot find any intention for joint creations which are required to be joint works." Furthermore, the Court pointed out that the defendant did not prove any intention to produce joint creations by the hairdressers and photographers based on any specific process for the creations of the plaintiff's photographs. Please note that the Court denied the existence of joint works in this decision, but it might be possible to conceive them as joint works, depending on the process of collaboration between the hairdressers and photographers because courts consider the creation of subject matters an element of originality.
To get back to the conversation in my parent's house, should I talk about more interesting topics such as my son's favorite creative activities in his kindergarten rather than a boring legal issue? Of course, I agree with you in part but unfortunately need to mention this as well. Yes, my father is actually a professional photographer.
Legal updates on Intellectual Property
Telephone
+81(3)3270-6641
E-mail for Enquiries