Geographical Indication (GI) Protection System started in Japan as of June 1, 2015
Territory:Japan
Practices:Intellectual Property、Trademarks
Category:Laws
IIDA, Haruka (Ms.)
Patent Attorney of Trademark & Design Division
As of June 1, 2015, the Geographical Indication (GI) Protection System started in Japan at the direction of the Ministry of Agriculture, Forestry and Fisheries of Japan (MAFF). The purpose of this system is to protect the name of regional brand products which have obtained a high quality and reputation through a unique way of production and natural characteristics such as regional climate and soil conditions as intellectual properties.
Up until now, geographical indications were able to be protected by the Regional Collective Trademark System under Article 7-2 of the Japanese trademark law. Mainly, the "Geographical Indication Protection System" differs from the "Regional Collective Trademark System" in following points:
i.   It is necessary for the applicant (producer groups) to define a rule concerning the quality control of the products at the time of the application of a Geographical Indication to the MAFF.
ii.  Producer groups must check the quality of the products along with the rule they defined.
iii. MAFF will issue an injunction to correct the unlawful use of a Geographical Indication by producers or processors.
The name which can be protected under the GI Protection System is basically a combination of a geographical name and a product name. However, it is possible to obtain a registration without including a geographical name, if a place of production can be imagined from the name itself.
When a registration is issued, the registered Geographical Indication and the following GI mark can be used with the products and/or their containers and invoices: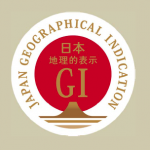 For an application, it is necessary to attach a) product specification (specific standards for origin, method and quality that should be met) and b) rules concerning production process management (guidelines for quality control by producer groups) along with the application form.
According to the MAFF website, currently "夕張メロン(Yubari Melons)", "江戸崎かぼちゃ(Edosaki Pumpkins)" and "八女伝統本玉露(Yame Dento Hongyokuro)" are under examination.
For more detail, please check the MAFF home page.
For our service associated with Geographical Indication (GI) Protection System, please refer to Our Service: Trademarks.
Legal updates on Intellectual Property、Trademarks
Telephone
+81(3)3270-6641
E-mail for Enquiries