YUASA and HARA was ranked Tier 1 for Patent and Trademark Prosecution and Contentious by Managing Intellectual Property
We are delighted to announce that YUASA and HARA has been selected Tier 1 by the Survey of Managing Intellectual Property (MIP) IP Stars 2017 Ranking, Japan Patent Prosecution and Contentious, and Trademark Prosecution and Contentious.
Furthermore, YUASA and HARA was awarded the prestigious "MIP Global Awards 2017 – Firm of the Year 2017 Japan Contentious Works", which recognizes the firm's patent and trademark contentious services in Japan.
We thank our clients for their continued support of YUASA and HARA and Managing IP for their recognition of our skills and expertise.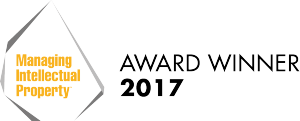 Telephone
+81(3)3270-6641
E-mail for Enquiries