Organization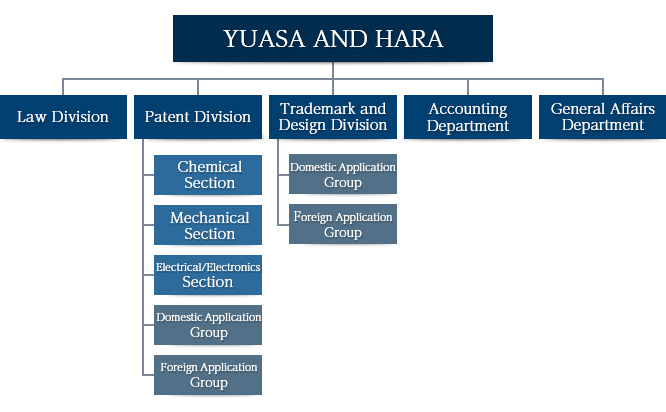 YUASA AND HARA is a leading Japanese law firm offering comprehensive legal services. The firm currently consists of a team of highly credentialed and qualified lawyers in the Law Division, patent attorneys in the Patent Division, trademark attorneys in the Trademark & Design Division and CPAs and tax accountants in the Accounting and Auditing Division.
Law Division
The firm's Law Division is currently staffed by 20 lawyers, 3 paralegals, secretaries and legal support professionals (as of April 1, 2019.)
In cooperation with our patent attorneys and CPAs, our lawyers provide a full range of legal services to our domestic and international clients. Services provided include, but are not limited to, corporate legal practice, corporate and commercial dispute resolution services, patent and intellectual property litigation, unfair competition litigation, and licensing.
Patent Division
The firm's largest division, the Patent Division consists of a technical section of 47 patent attorneys (as of April 1, 2019) and legal support assistants and an administrative section handling domestic and international patent applications and patent annuity services.
The Patent Division provides a full range of IP services including patent applications, domestic and international patent infringement analysis and litigation in close cooperation with our Law Division.
Email address of Patent Division
An email can be subject to transmission errors and other technical problems. Accordingly, you should not wholly rely upon an email transmission to engage the services of the firm, especially in cases involving critical deadlines. If you have transmitted an email message on an urgent/important matter, please notify us by telephone to confirm that your email has been received.
Trademark & Design Division
Around 1965 YUASA and HARA already had 7 attorneys specializing in trademark work for the Patent Division, which was the nation's largest patent firm by number of trademark attorneys. In 1998 YUASA and HARA founded a separate Trademark & Design Division specializing exclusively in trademark and design matters.
The firm's Trademark & Design Division is the nation's largest trademark practice and consists of a team of over 30 professionals including 12 patent and trademark attorneys, paralegals, secretaries and legal support staff (as of April 1, 2019.)
Our trademark attorneys counsel clients with respect to all aspects of their trademarks, including advising on the adoption and selection of new trademarks, filing and prosecuting applications to register trademarks, handling trademark oppositions, revocations, invalidations and assignments, carrying out searches and advising on trademark infringement matters in conjunction with our attorneys-at-law.  Further, as a result of amendment of Japanese Patent Attorney Act, our trademark attorneys now counsel clients with respect to trademark infringement, unfair competition, breach of license agreement, etc.
The importance of trademark protection and anti-fraud measures is underscored by today's exponential growth of international trade. The firm's Trademark & Design Division has a dedicated team of staff handling foreign trademark matters.
Email address of Trademark & Design Division
trademark@yuasa-hara.co.jp
ACCOUNTING and AUDITING DIVISION
The firm's Accounting and Auditing Division was established in 1965 and consists of 4 Certified Public Accountants (1 of whom is also registered as Certified Public Tax Accountants), 1 Certified Public Tax Accountant and 2 support staff (as of April 1, 2019.)
We conduct auditing of financial statements for our clients (individuals and corporations) and provide accounting services such as bookkeeping, payroll calculation (including year-end adjustment of payrolled employees' income tax), social insurance procedure and preparation of tax returns for corporations and individuals. We offer tailored accounting and optimized tax consulting services to our clients.
Email address of Accounting and Auditing Division
Telephone
+81(3)3270-6641
E-mail for Enquiries